26 Nov

PARVIZ TANAVOLI

Parviz Tanavoli (b. 1937, Tehran) is one of Iran's foremost artists, considered as the country's first significant modern sculptor. A central figure in the formation of the Saqqakhaneh School—a neotraditional style of art that derives inspiration from Iranian folk art and culture – Tanavoli has created works in bronze, ceramic, fiberglass and scrap metal.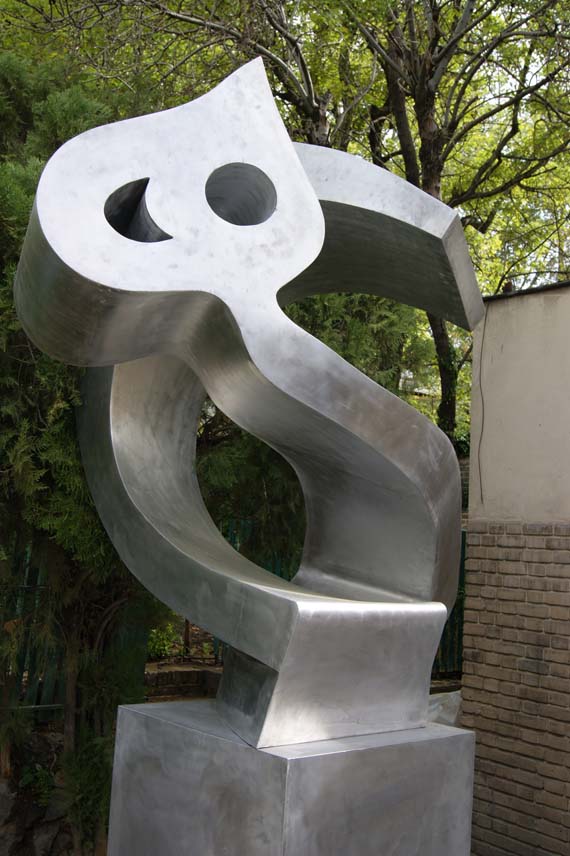 Parviz Tanavoli /  Big Heech, 1973,  Aluminum unique, 300x205x180 cm. Courtesy of Meem Gallery
His oeuvre displays a deep engagement with Persian folkloric traditions, poetry and literature, all expressed in a recurring series of subjects, including the calligraphic figure of Heech (Nothingness), Farhad the Mountain Carver, Lock, Poet, Prophet, Lovers, Walls, Hand, Lion and Bird. He is also a painter and created a series of gabbehs during the early 1980s. Additionally, Tanavoli is a prolific writer. He has authored numerous books and articles on the artistic culture of Iran, featuring in publications such as Hali, Tavoos and Oriental Rug Review.
He has held solo exhibitions in Iran, Europe, United States and Canada and participated in numerous biennales and group exhibitions including, Contemporary Art from the Islamic World, Barbican Centre, London, 1989; Continental Shift, Museums of Aachen, Maastricht, Heerlen and Liège, 2000; Picturing Iran: Art, Society and Revolution, Grey Art Gallery, New York, 2002; and Word into Art, British Museum, London, 2006. His works are housed in international private and public collections, including the British Museum, London; Grey Art Gallery, New York University Collection; Hamline University, St.Paul, Minnesota; Esfahan City Center; Museum of Modern Art, New York; Nelson Rockefeller Collection, New York; Museum of Modern Art, Vienna; Olympic Park, Seoul; DIFC, Dubai; and Royal Society of Fine Arts, Amman.
In 1979, Tanavoli retired as head of the sculpture department at Tehran University and left Iran with his family to settle in Vancouver. During this time, he published extensively on the crafts traditions of Iran, travelling to the country regularly for research and continuing to exhibit his works and collections internationally.