03 May

Will giant eye sculpture lure tourists?

Tourists are used to staring at unusual attractions, but visitors in Chicago, Illinois, will soon have one staring right back at them in a big way.

EYE, a three-story tall "incredibly lifelike" bronze sculpture of an eyeball, will go on display in July in the city's Pritzker Park as part of a celebration of public art in the Loop, Chicago's business district.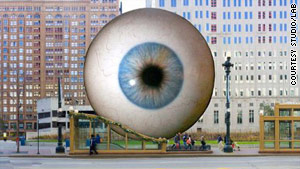 The three-dimensional installation, complete with a blue iris, was created by contemporary artist Tony Tasset.
"More than anything, I would like people to think it's cool," Tasset said. "My first job is always to make the space more interesting and I wanted to make something with a big impact."