07 Jan

The world's best public works of art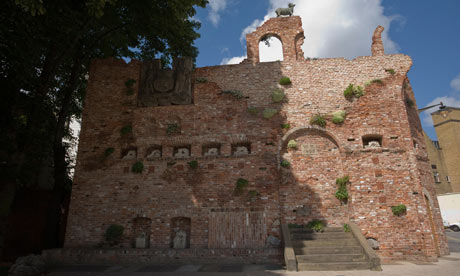 Barking Town Square, 7-metre high wall of reclaimed bricks which was developed by bricklayers from Barking College. Photograph: Mike Booth/Alamy
Barking Town Square folly, muf architecture/art, Barking
It would be easier to make a list of the 10 worst public artworks than the ten best, so festooned is the nation with works of utter senselessness. The Folly in Barking Town Square, by muf architecture/art, shows what public art can be. It is a 7m-high faux ruin that disguises the rear of an Iceland supermarket, built using the skills of a local bricklayers' college. It is engaging, playful and surprising but also rooted in its place. It works with its surroundings to form a new public place, and humanise what might otherwise be a harsh new development.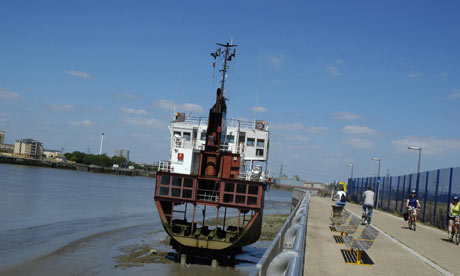 Slice of Reality, Richard Wilson, Greenwich Peninsula
'Slice of Reality' river sculpture and studio, a sliced vertical section of a sea going sand dredger. The original ship reduced in length by 85%. Conversion by Richard Wilson. North Greenwich peninsula, London. Photograph: Nicholas Bailey/Rex Features
It would have been nice to include Richard Wilson's Turning the Place Over, in which he cut an ovoid section out of a derelict building in Liverpool, and caused it to rotate slowly. But it was a temporary work which you can no longer see [see footnote].
So I offer instead the same artist's A Slice of Reality, which is the middle part of an ocean-going sand dredger sliced, as it says in the title, like a piece of cake. It is moored in the Thames off the Millennium Dome and the Greenwich peninsula, precariously perched on the mud, slowly rotting and quite beautiful.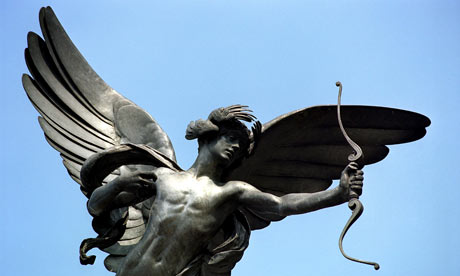 Eros, Alfred Gilbert, Piccadilly Circus
Eros Statue in Piccadilly Circus, London, Britain, 2004. Photograph: Dave Penman / Rex Features
Eros is a work of conceptual provocation ahead of its time. It is in theory a monument to the charitable works of Lord Shaftesbury, which its sculptor Alfred Gilbert thought fit to represent with a graceful naked boy, formed with a sensuousness that is frankly indecent. Objections were partly assuaged by calling it The Angel of Christian Charity, but Eros became an emblem for Soho, an idealised symbol of the area's less beautiful forms of erotica. It is also, as the logo of the London Evening Standard, an icon of the whole city.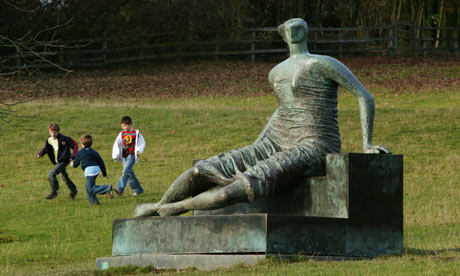 Draped Seated Woman, Henry Moore, Yorkshire Sculpture Park
Henry Moore's Bronze Draped Sitting Woman in Yorkshire Sculpture Park, West Bretton, Wakefield. Photograph: David Mansell
Henry Moore's Draped Seated Woman, a bronze statue popularly known as Old Flo, once stood among the tower blocks of Stifford Estate, Stepney, east London. It was a sign that somebody cared enough about a deprived spot that a substantial, well-made work of art by a world-famous artist could be placed there. When the estate was rebuilt in 1997, Old Flo was removed to Yorkshire Sculpture Park. Now a campaign has started to bring her back. Surely the benefits of the 2012 Olympics can include the return of this lost daughter?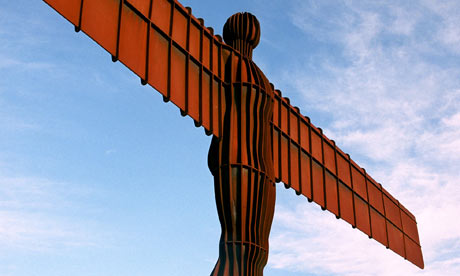 Angel of the North, Antony Gormley, Gateshead
The Angel of the North, a sculpture by Antony Gormley, outside Gateshead, Tyne and Wear Photograph: Michael Walter/Troika
There's an inevitability about having the Angel of the North on this list which almost led to its being omitted. Why not have Antony Gormley's more subtle and evocative Another Place, a series of slowly weathering figures on Crosby Beach in Liverpool? Isn't the Angel a bit easy-listening, a bit middlebrow? And should I not heed those local dissidents, who call it the Rusty Flasher? But I still find it magnificent, not least for the way its wide wingspan seems to turn slowly when seen from cars on the A1. It does its job, which is to be a landmark, without being pompous or ridiculous.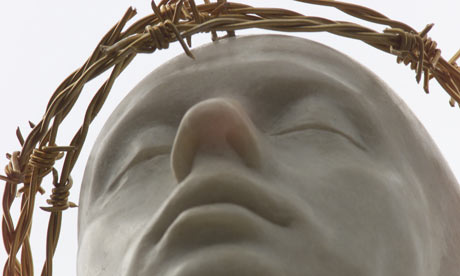 Fourth Plinth, Various artists, Trafalgar Square
Sculpture of Christ – "Ecce homo" by Mark Wallinger, unveiled in Trafalgar Square. Photograph: Frank Baron
"There is nothing in the world," wrote Robert Musil, "that approximates to the paradoxical invisibility of public monuments … strangely impregnated against attention from the outside." Nothing proves his point more than most of the plinths in Trafalgar Square. The great thing about the ever-changing artworks on the Fourth Plinth is that they puncture this invisibility, and make you keep on noticing this spot. Some are fatuous, some poignant, some witty. My favourites? Mark Wallinger's Ecce Homo (pictured) and Rachel Whiteread's Untitled Monument. (Next month: Yinka Shonibare.)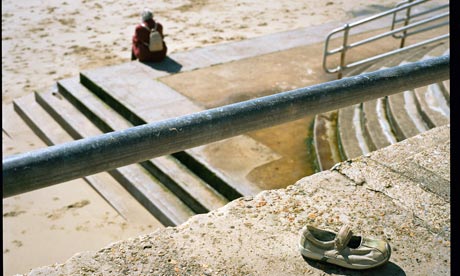 Baby Things, Tracey Emin, Folkestone
Tracey Emin Baby Things, 2008 Photograph: Thierry Bal
Artists' lives tend to trace a reverse rake's progress, from dissolute anarchists to respected establishment members. They start acquiring public art commissions in the middle of this trajectory, which is the point where Tracey Emin created Baby Things. These bronze simulacra of baby clothes are dotted about obscure locations in the Kent town of Folkestone. They are, she says, tributes to teenage mothers, of whom there are many here and in Emin's hometown of Margate. They are touching, and nicely escape the idea that public art has to be a big single thing in a plaza.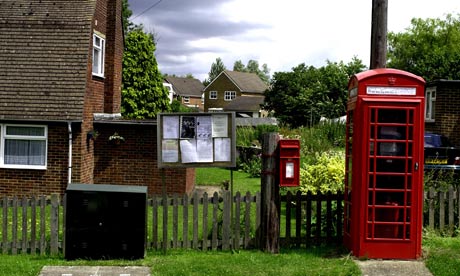 K6 telephone box, Giles Gilbert Scott
K6 telephone box, Sevington, near Ashford, Kent. Photograph: Martin Godwin
You might not think that the K6 telephone box is art, but its designer Sir Giles Gilbert Scott was the youngest Royal Academician since Turner, which is one definition of artist. It is also a work of genius, helping to shape the identity of the nation with a simple shelter for people making telephone calls. The best thing about the K6s, before most of them were replaced, was that they were identical everywhere, giving the meanest streets and the leafiest suburbs the same quality of design. They represent an idea of dignity in public space which would be nice to have back.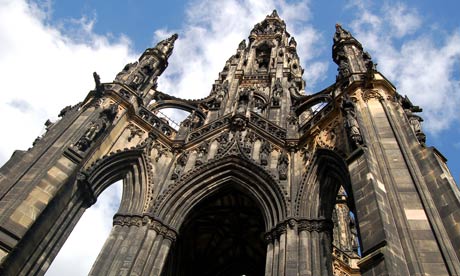 Scott Monument, George Meikle Kemp, Edinburgh
Walter Scott monument in Edinburgh. Photograph: Paul Bagot / Alamy/Alamy
The Sir Walter Scott Monument in Edinburgh is a great big phlegmy growl, a blackened tarry thing emitted from a larynx richly lined with Capstan Navy Cut and dark beer. Yet with a certain grace, for all that, thanks to its Gothic encrustations. If, like me, you're English, and never got the point of Rob Roy, its significance and emotional power can only be dimly perceived, but you can tell that a lot of yearning and passion went into this craggy eruption. In the context of Edinburgh, it's also a welcome counterpoint to the city's more classical and orderly architecture.
• This footnote was added on 22 April 2010 to clarify that Richard Wilson's Turning the Place Over is due for demolition at some stage, but in the meantime can still be seen rotating every day in Liverpool during daylight hours (www.biennial.com).