31 Oct

Milton Keynes' Famous Cows Given 'Halloween' Makeover

Police are investigating after the famous concrete cow sculptures in the city of Milton Keynes were given a pre-Halloween makeover and turned into skeletons.

Thames Valley Police has confirmed it is treating the incident as criminal damage after the world-renowned statues were given a new skeletal look.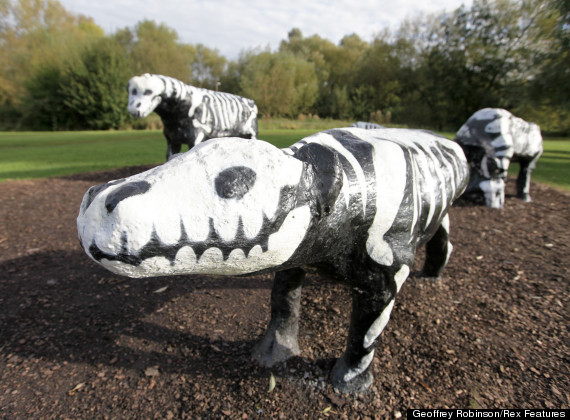 "Public art is an integral part of the city and park landscape and as custodians of the cows we take damage of this nature very seriously," said David Foster, chief executive of The Parks Trust.
"The cows are a part of Milton Keynes, they are a piece of public art and they should be valued by all. We will restore the cows to the artist's, Liz Leyh, original vision."
The three concrete cows and three calves were made in 1978 as a leaving present from the Milton Keynes Development Corporation.
They were sculpted from fibre-glass reinforced concrete by Canadian-born artist Liz Leyh and in the last 24 years have had a rather adventurous life.
The cows have been stolen and held to ransom, had pyjamas painted on them, been covered in BSE graffiti, placed in compromising positions and even been rebuilt after they were beheaded.
A spokesman for The Parks Trust added: "While the cows are very well-loved, they do, occasionally, attract the wrong sort of attention and have over the years been re-painted, graffitied, dressed up and physically damaged.
"We actively encourage people into the parks to visit all our artwork – but request that they respect them so that everyone can enjoy them.
"The Parks Trust, is a self-financing charity, and the costs of repair and repainting the cows, which could be up to £2,000 is money that would otherwise be spent on maintaining the parks for everyone in Milton Keynes."
But the Trust has decided to leave the repainting until after Halloween as they have been inundated with more than 300 responses residents on Facebook saying they like the new design.
"I think it's absolutely awesome and adds character to the cows," said Sarah Holmes, 28, from Milton Keynes.
"We were really surprised when we saw the cows had been given a makeover but someone has done a really good job of painting them and I'm glad they will stay that way for a while."
A spokesman for Thames Valley police said they were treating the painting as criminal damage.