30 Jun

Lego Dirk Nowitzki Settles at New Home in Texas

Shortly after Dirk Nowitzki delivered a championship for the Dallas Mavericks, Germany delivered another Dirk Nowitzki to Grapevine, Texas. A very large, plastic version.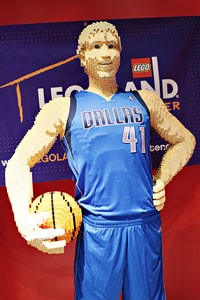 A Legoland Discovery Center in Germany had a nearly life-sized replica of the Mavericks star, and the general manager of the Dallas-area attraction felt it was time to bring it to Texas.
The life size statue is about seven feet tall, made from between 25,000-30,000 lego blocks and took approximately 3,000 hours to build. "It took three people to lift him up," said Legoland spokeswoman Elysa Nelson.  Nelson said the general managers of the two parks worked out a trade, bringing Dirk over for one of Grapevine's pieces.  The Lego master builder in Grapevine also built a replica sculpture of the Larry O'Brien Championship Trophy to go alongside the champ.
"It's about 4,000 Lego bricks and took about 20 hours," Nelson said. "It's about 25 pounds. It's pretty heavy."  Fans can hold the trophy in pictures, and Legoland is even printing photos with a Mavericks banner around them if you buy one of the park's photos. Don't worry about  destroying the creations. They're held together with glue, and Lego Dirk has a steel base and the basketball is screwed into his hand.
Nelson said the flesh-and-bone Nowitzki hasn't visited since the large statue's arrival, although there are photos of the two together in Germany in 2003.  "We invited him to come out. But he was already on his way to Germany," Nelson said, adding it took a little while to get the custom statue shipped and outfitted in the new NBA Finals jersey, since he was wearing the old white ones before.
Nelson said the big fella could stay awhile.  "We told them we wanted him forever," she said. "They sent him to us, he went through customs, and he is now going to live at the Legoland Discovery Center in Grapevine Mills."