04 Oct

Big Statues Creates Custom Bronze Plaques for Construction Company's 50th Anniversary Ceremony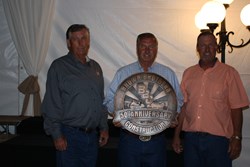 The bronze sculptors at Big Statues are honored to announce their collaboration with Diane Goodwin and others who were involved in the process of creating the custom memorial plaques presented to the founders of Brown Brothers Construction.
Brown Brothers Construction is currently owned by brothers Albert, Ellis, and Michael Brown. The company was established by their grandfather, LaVor Brown, and his sons Arlen, Dale, and Earl in 1963.
Brown Brothers Construction is located in rural southern Utah.
The company started with one backhoe, digging many graves at no charge, installing water lines, and putting in basements. It soon graduated to drilling road site preparation when uranium exploration came to the area. Along the way, the company has built reservoirs, parking lots, done site preparation for a number of commercial buildings and oil pads, and built many miles of road including the segment of Utah Highway 24 that runs through Loa.
Goodwin contacted Big Statues in May of 2013 to begin moving forward with the project. More than 750 employees and guests attended the 50th Anniversary celebration for Brown Brothers Construction, where the plaques were gifted.
Albert Brown said, "Every time I look at [the plaque] I will remember this day and the many things we have accomplished over the years."
The 20-inch plaques were given to the owners. The larger, 48-inch plaque will be displayed in the company's front office for guests to see.
The plaques were cast in a fiberglass resin and coated with a bronze patina.
Michael Brown said, "Is this bronze? I can't believe how much it looks like bronze! The detail is remarkable too. I can't wait to display mine at home."
Big Statues, a custom bronze sculpting company based out of Provo, Utah, has been sculpting commission bronze pieces for over ten years. From life-size statues to custom plaques, each piece of art is held to the highest standard of quality.
For more information about Big Statues, and the custom bronze sculptures of Matt Glenn, visit http://www.bigstatues.com